NFC & QR Code Marketing
Be at the cutting edge of technology!
A great way to promote your products or services is to harness the power of NFC (Near Field Communication) and QR (Quick Response) codes on marketing materials such as posters, flyers, business cards, etc and making these 'smart': dynamic as opposed to static..
Information encoded on these materials can be used to engage with customers or facilitate data collection and validation.
In the case of marketing, one such use is the 'talking label':
 • Using QR codes and/or NFC tags to enable speech output, talking labels can make it easy for people with disabilities, retail shoppers or tourists to use their smartphone (by using a QR code reader installed on their phone or enabling NFC on their compatible smartphone) to get important product information such as food allergy, nutrition facts and identification information for the visually impaired.
• This information could even be encoded in different languages.
---
---
This marketing functionality can be further extended to 'smart posters' which provide links to other sources of information about services or products.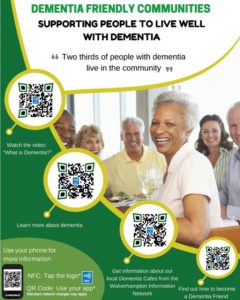 Examples include:
share contact details
share location map and directions
share video
link to social media channels
link to pdf documents
provide discounts & special offers
promote events
showcase a series of images
have customers send a pre-filled email or sms message
display text in any language